The Solar System
by Annabelle Keller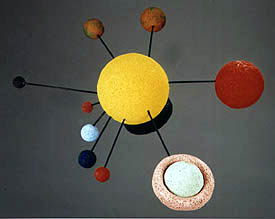 Take an imaginary journey into space with a model of the solar system that you can make! Position the planets in orbit around the sun for totally far out fun!
You will need:
Two 41/2" Styrofoam® Rings

One each Styrofoam® balls
(1", 2", 21/2", 3", 4", 6")

2 each Styrofoam® balls
(11/4", 11/2")

12" x 36" Styrofoam® rectangle

Acrylic paint
(Bright Yellow, Black, Orange,
Blue Danube, Ultra Blue,
Christmas Green, Bright Red,
Village Green, Nectar Coral,
Terra Cotta, Seminole Green and Purple)

2 Wood dowel rods 36" x 1/8"
Cut the dowel rods to the lengths shown on the chart below. Paint them Black and stand them in a Styrofoam sheet to dry.
Note: you may need adult supervision to trim the dowels.



Using the chart as a guide, glue the cut dowels into the corresponding Styrofoam balls then paint each ball. When two colors are given paint the ball with the first color, let it dry then dab on spots of the second color with your finger.



Glue the sun to the black ring and the coral ring around Saturn.



Place a rubber band around the sun about 21/2" above the base. This will be your guide for placing the planets. Starting with Mercury, glue the dowels into the sun about 1" below the rubber band. Remove the rubber band when all of the planets are attached.
Planet

Sun
(Ring for Base)
Mercury
Venus
Earth
Mars
Jupiter
Saturn
Saturn's Ring
Uranus
Neptune
Pluto

Size of Ball

6"

1"
1 1/2"
1 1/2"
1 1/4"
4"
3"

2 1/2"
2"
1 1/4"

Color

Bright Yellow
Black
Orange
Deep Danube
Ultra Blue/Christmas Green
Bright Red
Orange
Village Green/Nectal Coral
Nectar Coral
Terra Cotta/Seminole Green
Seminole Green/Terra Cotta
Purple

Dowel Length



2 1/2"
4"
5"
6"
7"
8"

10"
11 1/2"
14"